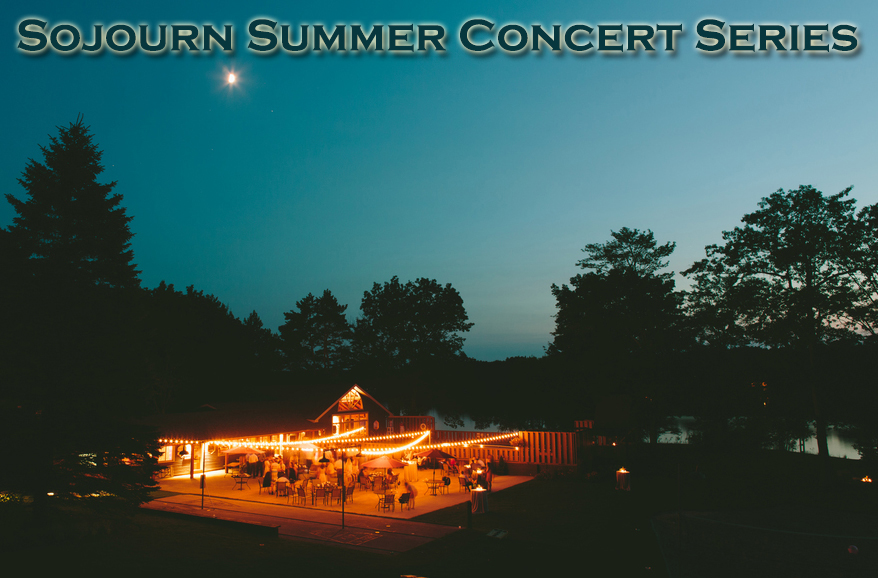 SUMMER CONCERT SERIES
Sojourn Lakeside Resort is excited to announce a series of 4 mid-week concerts this summer in Gaylord. Creating a unique Northern Michigan experience is the hallmark of Sojourn Lakeside Resort. Here, you will connect with nature, with the past and with one another. With 35 wooded acres, 20 rooms and suites, a great hall, private beach and more, Sojourn is nestled in the heart of Northern Michigan. The concert series will provide a one of a kind outdoor concert experience on the shores of Dixon Lake.
Here's a great video featuring music and performance by Drew Hale Band, that was produced by Frankie J. Schweizer Jr. for our Concert Series.It really captures the whole Sojourn Summer Concert experience. We still have 2 more shows to go this summer, so get tickets now! http://siteline.vendini.com/site/sojournlakesideresortsummerconcertseries.com

Posted by Sojourn Lakeside Resort on Monday, July 30, 2018
THE LINEUP
The Ragbirds
Wednesday June 20th at 7:00 pm
 For years, "home" was a place The Ragbirds rarely visited. The band's music — a genre-bending hybrid of indie-pop melodies, global rhythms and songwriting styles influenced from all over the world — was as broad as their audience, which stretched from the group's hometown of Ann Arbor, Michigan, to the shores of Osaka, Japan (where they scored a Number One pop hot with the song "Book of Matches"). Show by show, in venues ranging from rock clubs and performing arts centers to festivals encompassing everything from bluegrass to electronica, The Ragbirds developed a well-deserved reputation as one of the most dynamic, high-spirited live bands in roots music.
---
The Drew Hale Band
Wednesday July 18th at 7:00 pm
Featuring Michigan country music sensations, The Drew Hale Band. Throughout Michigan, the name Drew Hale is synonymous with powerful vocals, compelling lyrics and haunting melodies. In 2016, Drew won the national Country Showdown competition held at the Ryman Auditorium in Nashville, earning him the title Best New Act in Country Music, as well as the $100,000 cash prize. Most recently, The Drew Hale Band won the Detroit Regional round of 93.1 NashFM's Nash Next contest.
---
Pete Siers Trio
Wednesday August 22nd at 7:00 pm
The Pete Siers Trio is an amazing jazz project celebrating the music of Benny Goodman, and other well established artists. Featuring Tad Weed, of the Detroit Symphony Orchestra on piano, clarinet virtuoso Dave Bennett, and bandleader Pete Siers on drums. This is a high energy, and extremely talented group of musicians presenting a wonderful repertoire of jazz music.
---
Dixon's Violin
Wednesday September 19th at 7:00pm
 The world's premier visionary violinist, Dixon's life mission is to inspire people – and he has done so across North America, including giving three TED talks/performances, over ten years at Burning Man, plus radio, TV, and film appearances.  A former technology leader and symphony violinist, Dixon walked away from a distinguished career to follow his dream full-time, and invented a whole new music genre.  Dixon now improvises on a 5-string electric violin with a looping system he developed to create an all-live one-man symphony, guided by his remarkable personal story of life transformation.
Information:
Sojourn Lakeside Resort is Located at 2332 E. Dixon Lake Road, Gaylord. All shows start at 7pm. Tickets are available online or at the venue for $20. All Ages welcome but please no pets.
Please Call 989-350-3587 if you have any questions.